Video Enhancer AI By AVCLAB's
$39.95
Summary
The AI Video Enhancer by AVCLabs is a tool that upscales and enhances low-resolution and blurry videos. If you've any old footage on your PC, improve them using Video Enhancer AI.
Enhance Videos Up to 8K

Speed & Accuracy

Support
Pros
Strong AI Algorithm
Use Friendly Interface
Fast & Secure
Upscale up to 8K
Trim footage frame by frame
Output uncompressed
Good Support
Cons
For some videos, it might take a bit longer than usual
We all have some old low-quality video lying around that contains some high-quality and precious memories. After all, HD cameras and DSLRs have only recently become common. Before that, people used to capture precious moments in low-quality phone cameras that delivered blurry and discolored output.
So if you are older than 22 you must have at least dozens of such videos of say your 18th Birthday, graduation day, or some other memorable day.
Or maybe you have access to a high-resolution camera now but even it ended up producing shaky results due to hand motion or poor lighting. Either way, the AI Video Enhancer by AVCLabs can easily solve this issue by upscaling the video without compressing the video or compromising on the memories.
It recovers almost all the information from the low-quality videos and can automatically process them to deliver even 4K output results. This AI-powered tool can detect and fix almost all kinds of video quality issues i.e. shakiness, discoloration, motion artifact, noise problems, etc.
The Video Enhancer AI by AVCLabs leaves all of its competitors behind thanks to its diverse features and optimized video processing capabilities.
Do you want to know more about this tool? Then just sit back and read ahead.
What is AI Video Enhancer?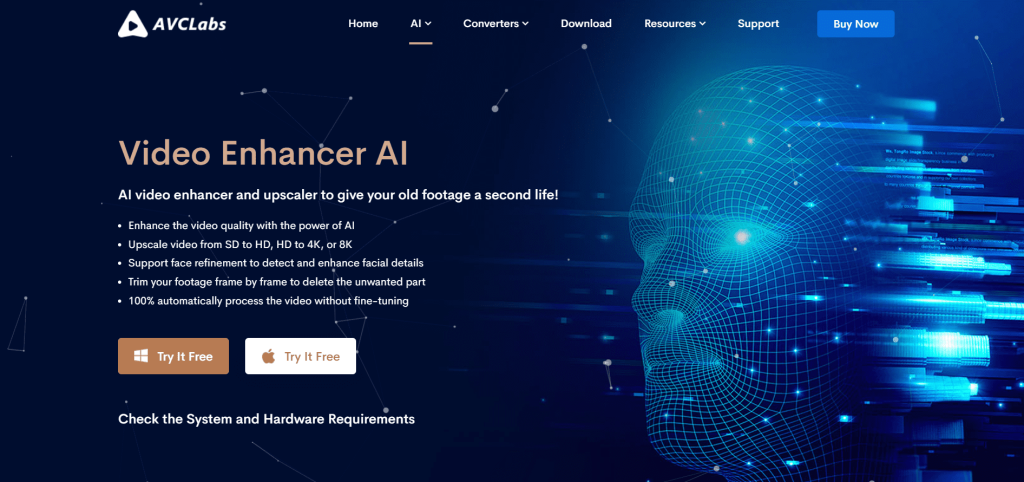 AI Video Enhancer by AVCLabs is, as the name suggests, a tool that can upscale and enhance blurry and low-resolution video. It uses advanced AI technologies to upscale the videos from SD to HD, HD to 4K, and even 4K to 8K. This tool also improves the facial details of the people as it supports optimized face refinement.
In addition, it automatically processes the videos to improve the resolution without unnecessarily fine-tuning anything. Moreover, it recovers most of the details from the video and fixes a variety of issues frame by frame. It identifies and automatically fixes brightness, shakiness, blurriness, and overlay noise to produce natural yet higher resolution output.
People can even use this AI Video Enhancer to edit the videos frame by frame and delete the unwanted parts. Most importantly, it is very easy to use as it automatically works to recover the details of videos and improve them so there is no need to configure anything manually.
Features of AI Video Enhancer

AI Video Enhancer offers the following features;
Improved Resolution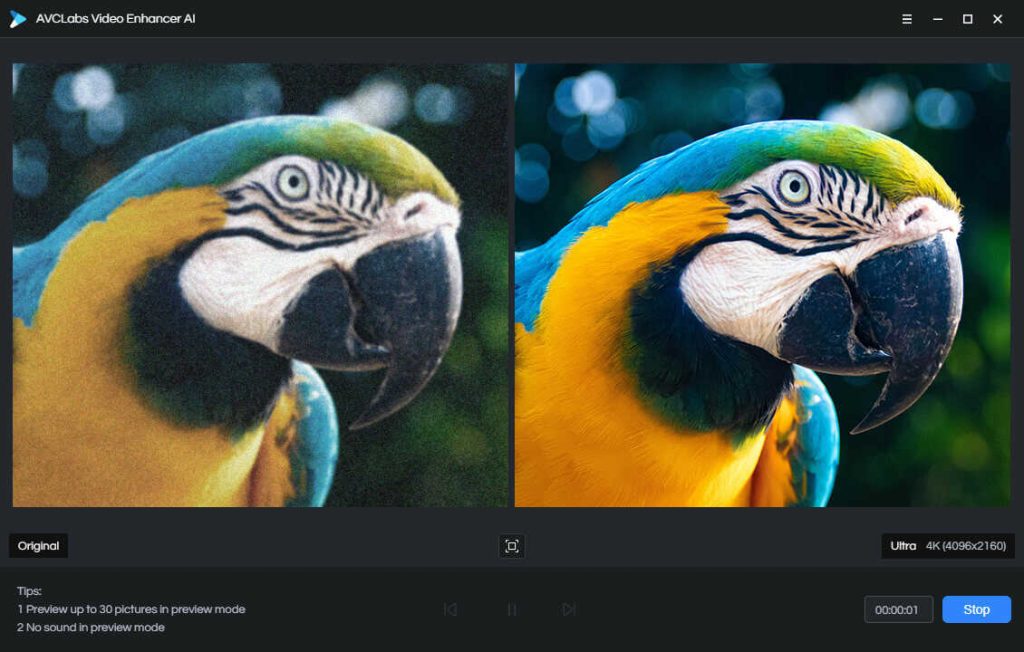 This video enhancer uses the AI-based deep learning super-resolution technology to enhance the quality of the videos from 480p to 1080p, 1080 to 4K, and even 8K. It doesn't matter what the resolution of the original video is, AI Video Enhancer will produce extra pixel data to fill the missing parts and generate a high-resolution video.
Frame by Frame Editing
AI Video Enhancer allows people to edit their videos frame by frame. So you can edit your videos while enhancing their quality. You won't need to download any other software for editing.
This makes it very easy to edit out any undesirable part of the video and keep the high-resolution parts that you like.
Guaranteed Uncompressed Videos
The processed videos are always uncompressed. While processing the videos, they are not compressed or shortened in any way.
Face Refinement
This tool utilizes AI technology to recover the details of human faces too. It can detect facial features no matter how much obscure they are due to bad light or blurriness and then enhance them to produce clear and natural output. The face optimization abilities of AI Video Enhancer are unmatchable at the moment.
Natural Output Result
AI Video Enhancer processes the low resolution to deliver natural-looking videos. It does not add unnatural saturation or brightness to the videos that make them look fake or overly edited. You will always get a natural tone in the high-quality processed videos.
User-friendly
It works automatically to optimize and upscale the videos so no manual configuration is required from the users. The AI Video Enhancer will do all the work itself so using it is very easy.
What Makes AI Video Enhancer by AVCLabs different from its Competitors?
Now we all know that there are countless video enhancers on the internet that claim to upscale videos so how is the AI Video Enhancer different from them? Well, First of all, this Video enhancing tool produces natural output results while its competitors produce oversaturated or fine-tuned videos that look over-edited.
Furthermore, it allows users to make frame-by-frame editing. While most Video Enhancers lack this feature as frame by frame editing is a rather advanced feature offered by expensive video editors instead of video-enhancing tools.
Last but not least, AI Video Enhancer by AVCLabs recovers information from already existing videos and then uses its AI-backed abilities to apply the most optimum way to enhance the video quality. Hence it works automatically while most other video enhancers need to be configured and adjusted which can prove to be too complicated for laymen.
How to use AI Video Enhancer Tool?

You need to first download and launch the Video Enhancer. On the Main Window of the program, you will see the "Browse" button.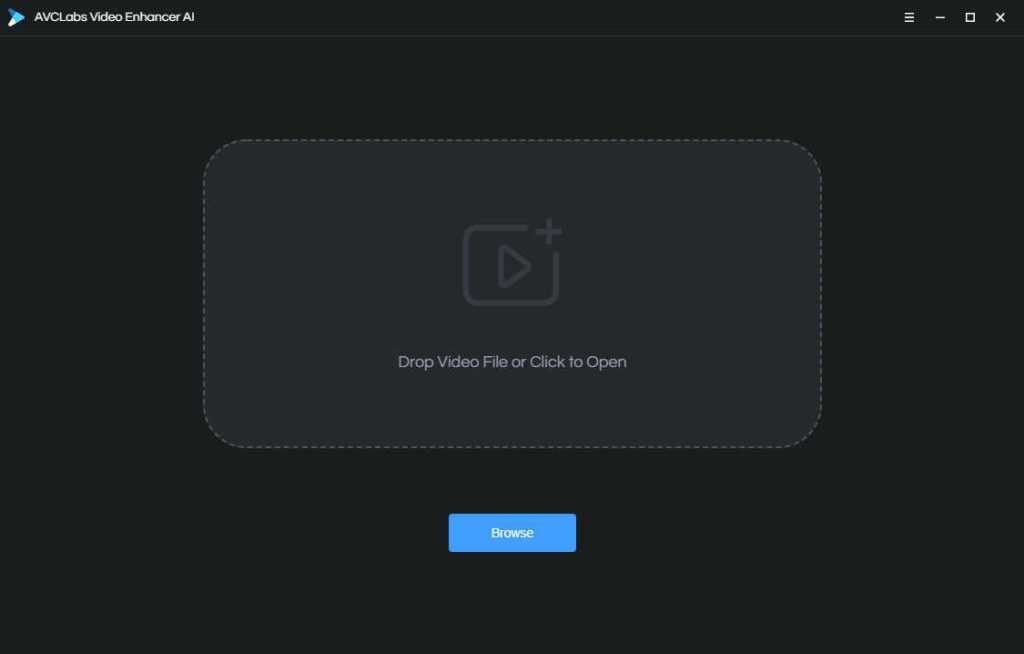 Click on this button and select the video you want to upscale. Then you will need to choose an AI processing model and adjust the quality of the output which could be HD or 4K etc. Click on "Start Processing" to start the process of upscaling.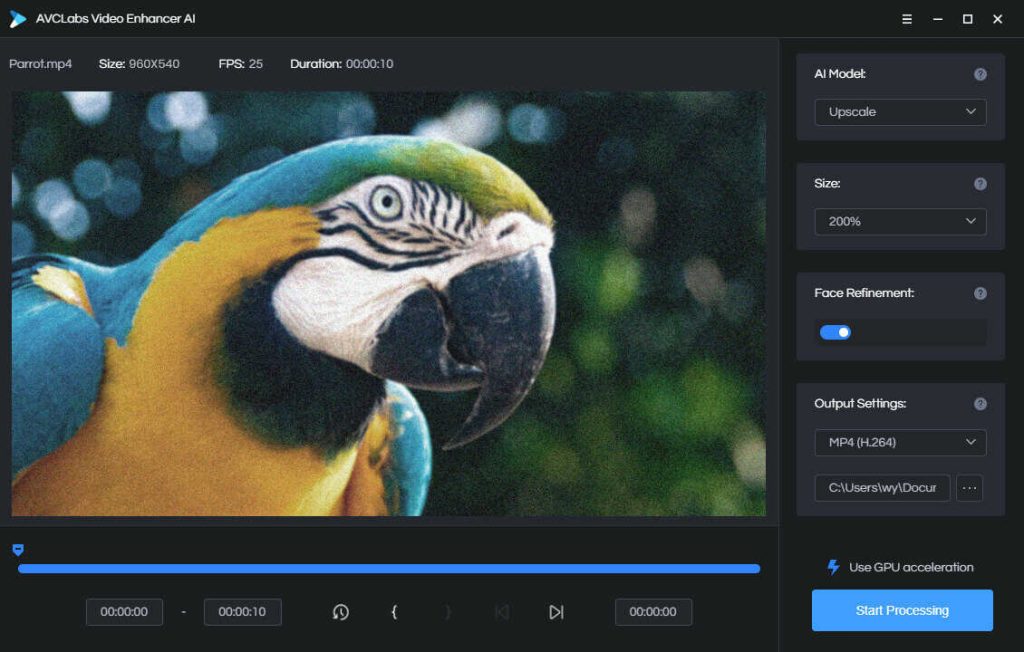 Shortcomings
Like everything in the world, AI Video Enhancer is not perfect. It works seamlessly most of the time but sometimes, it takes too long to process the videos. This happens very rarely but it does happen. Other than this, I have no complaints about this amazing video enhancer.
Payment Plans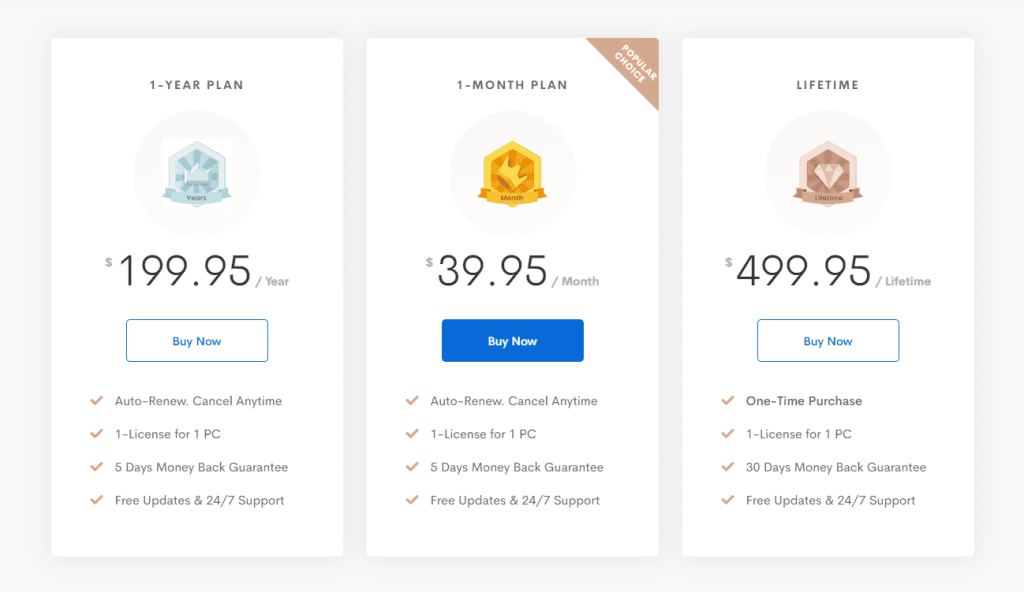 You can try AI Video Enhancer for free but I suggest you invest in it to take full advantage of its latest features and recover your precious memories in high resolution. You can either buy the 1-year plan for $199.95, 1-month subscription based plan for $39.95, or the lifetime package for $499.95.
The 1-Month Plan seems to be popular among its users. It offers 1-License for 1 PC, and free updates that will support TensorRT acceleration in the future which will lead to speed improvement a lot.
See pricing plans here.
Conclusion: Final Verdict
AI Video Enhancer by AVCLabs is one of the best Video Enhancers available on the internet. It is easy to use and it even provides customer support. This tool can enhance videos to 8K resolution, optimize human face and fix an extensive range of issues associated with the old videos. The users can also edit and trim the videos if needed.
So it is time to recover those old videos and relive the precious memories in HD quality. Explore the AI Video Enhancer now.
At Trendstorys.com, we aim to provide honest reviews to our users to help them make the right decision.
Any queries related to the Video Enhancer AI review or if you're already experienced with this video upscaling software, let me know your thoughts in the comments.