AnyWebP is a premium and yet free all-in-one image WebP converter. If you are a blogger like me then this tool is exactly what you need right now to improve the loading speed of your page.
Multi WebP Conversion Support

9

User Ratings (

5

Votes)

9.6
It's been 10 years since WebP was announced as the supported image format for Google. But still, it is hard to find any trusted tool that can convert images from say JPEG format to WebP format. Sure you may think that I am exaggerating it because there are so many well-known image format converter tools available on the internet but most of them mostly only support JPG OR PNG image conversion.
Even if some tools or sites are converting any image format into WebP, they are not trustworthy and they often ruin the quality of the image. It is a shame indeed because WebP format comes with endless advantages especially for bloggers, E-commerce stores, and SEO specialists.
But after an endless search, I found an ideal website that converts any format to WebP and vice versa. The website is called AnyWebP and using it is actually very easy. It has helped me a lot as a blogger myself so I wanted to share my views on it with you guys. You can use it to even bulk convert images from any format to WebP and vice versa so it saves your precious time too.
Read on to find out more about it.
What is AnyWebP?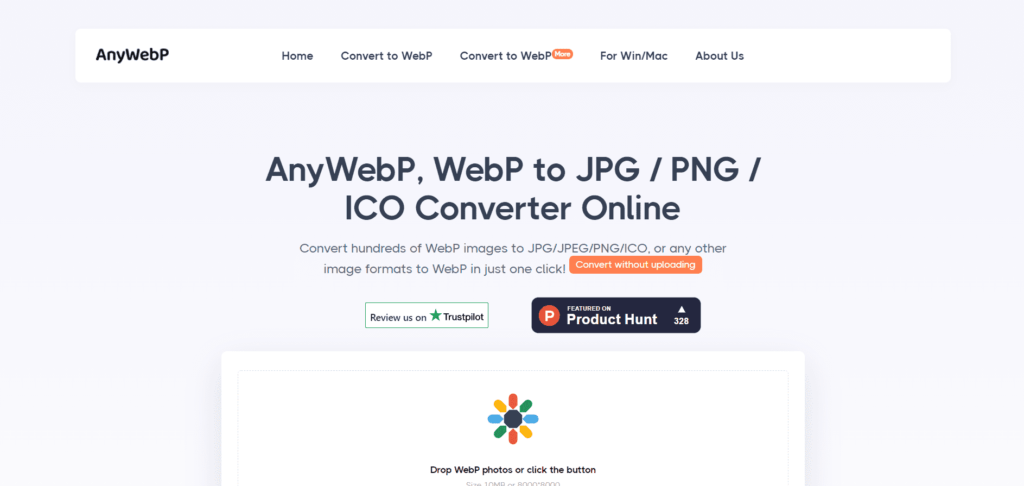 AnyWebP aims to provide all-in-one WebP conversion solutions that are easy and secured to use. You can use it to convert any image format, JPG or PNG for example, to WebP with one click. Plus AnyWebP can also be used to convert WebP image format into any other format within seconds. This is why AnyWebP is actually becoming increasingly popular among bloggers and SEO experts.
The amazing thing is that users can even convert hundreds of images at the same time efficiently. In addition, all conversions, take place offline so you do not have to worry about privacy and security issues. AnyWebP also has a reliable team of customer support to assist the users and guide them in case they run into an issue. It is indeed one of the best WebP image converters on the internet.
Features offered by AnyWebP

Following are some of the features offered by AnyWebP:
All-in-one WebP conversion
It offers the finest all-in-one WebP conversion. So you can convert as many images as you want from any image format to WebP and you can also convert WebP into any other image format in few seconds.
WebP takes just one second to convert one image format to another so it is not time-consuming.
Safe & Secured
AnyWebP takes all the necessary precautions to make sure your data and images remain safe and protected. Latest JS and VUE software are used by this website to convert the images in protected browsers. Your images will not be saved or used for anything else as per AnyWebP policies.
24/7 Customer Support
It houses a team of technical experts that are available 24/7 to answer the queries of the users and resolve their issues. You can inbox the technical support and they'll get back to you at maximum within 24 hours. They actually respond soon, 24 hours is just the maximum time they are supposed to respond in.
Convert hundreds of images together
AnyWebP can be used to convert the format of hundred of images at the same time so you don't need to convert one image and wait for hours to convert all the images. Just upload them together on the AnyWebP website and let it do all the work for you.
User Friendly
It is very easy to use AnyWebP. So even if you are not tech-savvy you'll be able to use it without any hassle.
How to use AnyWebP?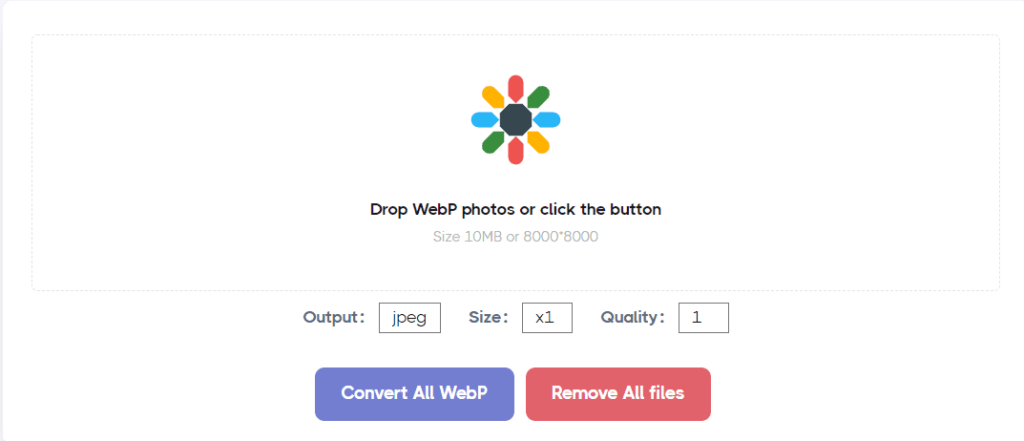 The interface of AnyWebP is easy to use. To convert the image format, first go to the official website of AnyWebP. Then click the button to upload the images you want to convert. You can also drag and drop the images into the tools. When the images have been uploaded, select the output type and click on convert images and AnyWebP will convert your images.
It's pretty easy, right?
How converting Image into WebP format is helpful?
AnyWebP is a Google-supported image format that is 25%-35% smaller in size as compared to traditional JPEG images. This is why it offers better compression efficiency which many find appealing. This format is also easy to load as compared to other image formats. Hence if you upload all the images on your website in WebP format then the speed of your site will improve which will enhance the user experience.
SEO experts and bloggers are using WebP images to improve the speed of their sites. So you know what tool to use if you want to improve the efficiency and loading speed of your site. But many people may need to convert WebP images into other image formats since other image formats have their own advantages.
The formats like JGP etc are easier to edit and are supported by all kinds of image viewers so they are more suitable for offline use. That is why AnyWebP also incorporates conversion of WebP into other formats. It is the ultimate image format converter.
If you are still confused about how to use AnyWebP, just go to its website and you'll find the complete guide on how to use AnyWebP to convert image formats, how to download images and how to convert big batches of images. If you are still facing issues, you can contact their customer support for detailed guidelines and directions.
Is AnyWebP Free or Paid?
It is free to use as many times as you want. You don't have to pay for the premium version to enjoy extra features. You get to use all the features for free for the rest of your life.
But we can't say that it would remain free for a lifetime since it's growing rapidly and I believe they'll come up with a premium plan.
Conclusions
AnyWebP is a premium and yet free all-in-one image WebP converter. If you are a blogger like me then this tool is exactly what you need right now to improve the loading speed of your page.
You can go to its website and start using it right now to see how effective and smooth it is. Therefore, I'll definitely recommend everyone to use AnyWebP when converting images to WebP or to other image formats.
If you've still got any doubts about choosing AnyWebP, go check out other AnyWebP reviews from people who have already experienced this tool and find out what they are saying.
At Trendstorys.com, we aim to provide honest reviews to our users to help them make the right decision.