AMZScout is a terrific Amazon tool that can increase sales by 400%. Definitely worth a look. You can make considerable revenue and establish your name in Amazon.
User Ratings (

1

Votes)

9.6
Amazon has become extremely competitive over the years and some product niches have become so saturated that most people are struggling to make even a meager amount of money.
Plus, the most troublesome fact is that a vast majority of people fail to make money even after spending thousands of dollars on some Amazon Affiliate course. There is nothing wrong with accepting that now a new Amazon tool or strategy is needed to sell products and make revenue.
Some people think that making money through Amazon is a matter of luck while others think that people need to try harder if they want to make it in this already saturated market. But a comprehensive tool like AMZScout is all you need to succeed and make big bucks on Amazon. This tool is equipped with everything an Amazon seller may need to attract customers, sell products and earn more profit.
AMZScout can help you in choosing low-competition but profitable products, reliable source item suppliers, and news on the latest trends in the market to get you a head start. It can also find undiscovered and unique product keywords so that you can rank higher than your competitors. Do you want to know more? Then read on.
What is AMZScout?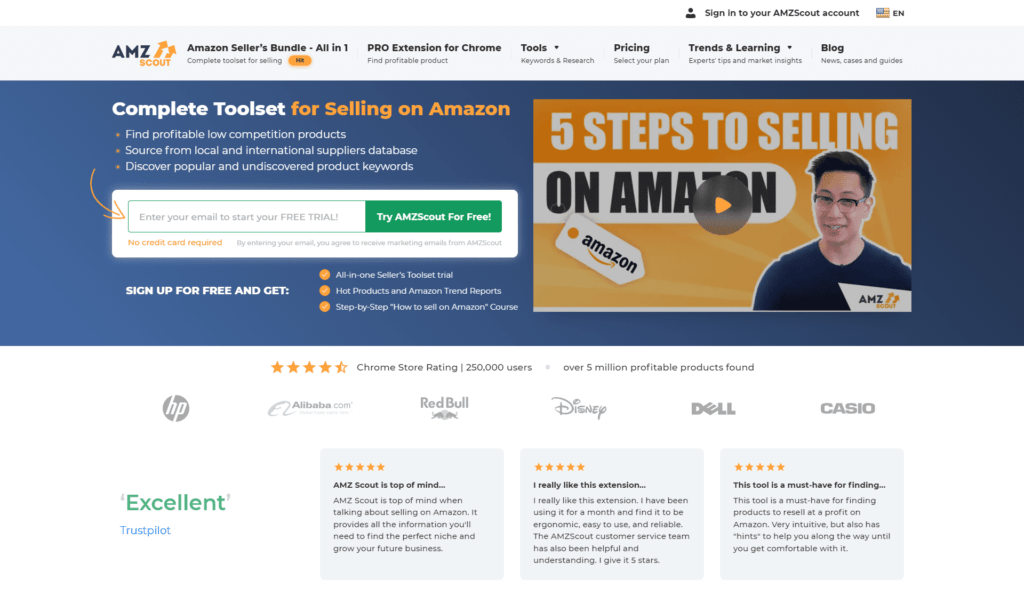 AMZScout is the ultimate all-in-one Amazon Toolset trial that can help sellers in skyrocketing their sales and generating revenue. It was established in the U.S in 2017 to help struggling sellers in making sustainable income, reduce launch risks, and set their feet in the saturated Amazon market. Since 2017, AMZScout has grown into a multinational company and it has been joined by more than 1,000,000 accounts.
AMZScout can help sellers, First of all, in finding low competition products with unique product keywords that have the potential to be ranked. It will also help you in finding international suppliers from all over the world. In addition, this tool provides sellers with reports, insights, and recommendations to help them create effective PPC campaigns and product listings.
Most importantly, you can even spy on your competitors with the help of this tool. AMZScout allows sellers to monitor the keywords, sales, and pricing of their competitors so that they can always be one step ahead of them. So you can easily beat your competitors and dominate your niche with the help of this tool. It is also totally legal and credible to use so you be at ease. Even well-known companies like RedBull, Disney, Dell, and Casino trust AMZScout to boost their sales and expand their business.
Features and Perks of AMZScout
AMZScout features comprehensive and reasonably priced tools to enable Amazon sellers to successfully sell products on Amazon. It offers:
Low- Competition and Profitable Products Research Tools
Most Amazon sellers fail to make money because they try to sell tough competition products. But AMZScout can help you choose low-competition and yet affordable products with the help of its Product Database which has about 550 million items. The database contains detailed information on each product so you can compare a product's demand and choose the one that has low competition but a bigger profit margin.
The sellers will also receive 10 of the top 1% most profitable products weekly so you can keep track of what's in demand and selling.
Advanced Keyword Search Tools
AMZScout offers tools to find the best keyword to ensure your PPC campaigns are a success and you can beat your competitors. It will provide you with both undiscovered and popular keywords that will make it easy for you to rank your products.
The sellers can also monitor keyword ranking to fine-tune their SEO campaigns and generate more sales.
Easy to Use PRO Extension

It offers a convenient to install and use AMZScout PRO Extension. The extension will make it easy for sellers to check out trends, competitor information, and analytics reports while they browse through Amazon pages. You just have to download the extension on Chrome and you can use it.
Free Tools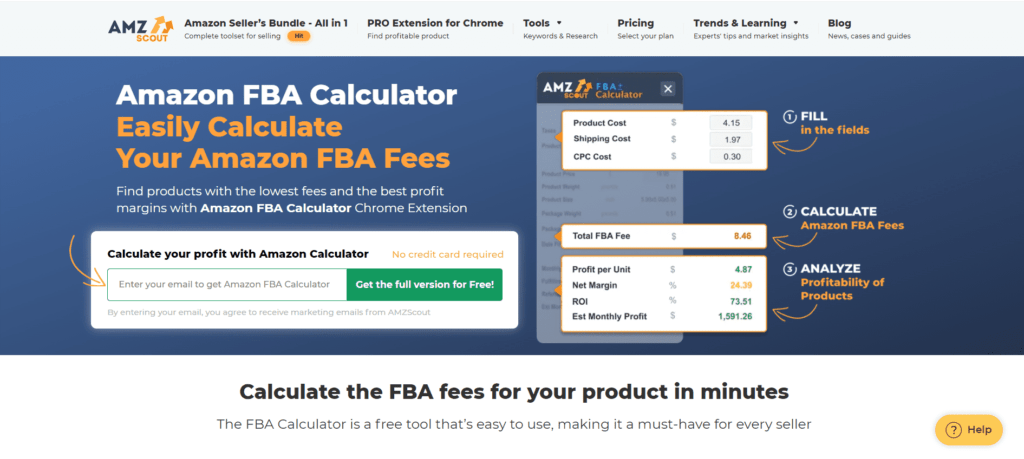 Amazon's Fulfillment by Amazon (FBA) program makes selling via eCommerce extremely convenient, which is why it is very popular among sellers. But many fees are associated with the program which needs to be calculated and that's where AMZSout offers you a free FBA Fees Calculator and Sales estimator tool to help you calculate your fees.
Trend Reports
Lack of information is another leading cause of the failure of new Amazon sellers. This is why AMZScout offers monthly product reports, trend reports, keyword ranking, insights, and Amazon news to help the seller in maximizing their profit. So you will remain on top of all the information and be ready to face any change in trends without losing sales.
Find Suppliers
There is also an Alibaba suggestion feature that will help sellers in finding suppliers of their products from all over the world. It also provides them with an analysis of supplier performance and business activity so that they can work with the most reliable suppliers. You can also find your competitor's products and include them in your own inventory.
Amazon Seller's Course
Now I understand that some of you may be thinking that "How do I use this AMZScout?" or "How can I use AMZScout to make revenue?" Well, you don't need to worry about it because it offers a 3-month course for Amazon Sellers. The course is designed by experts to teach new sellers how can they use AMZScout to make money and utilize its potential to the fullest.
Keep tabs on your Competitors
The only way to be one step ahead of your competition is to study them and build better strategies than them. With the help of AMZScout, you can monitor the keywords, pricing, stock levels, and sales of your competitor. The Amazon Sellers can use this information to their advantage in several ways and outrank their competitors.
Pricing Plan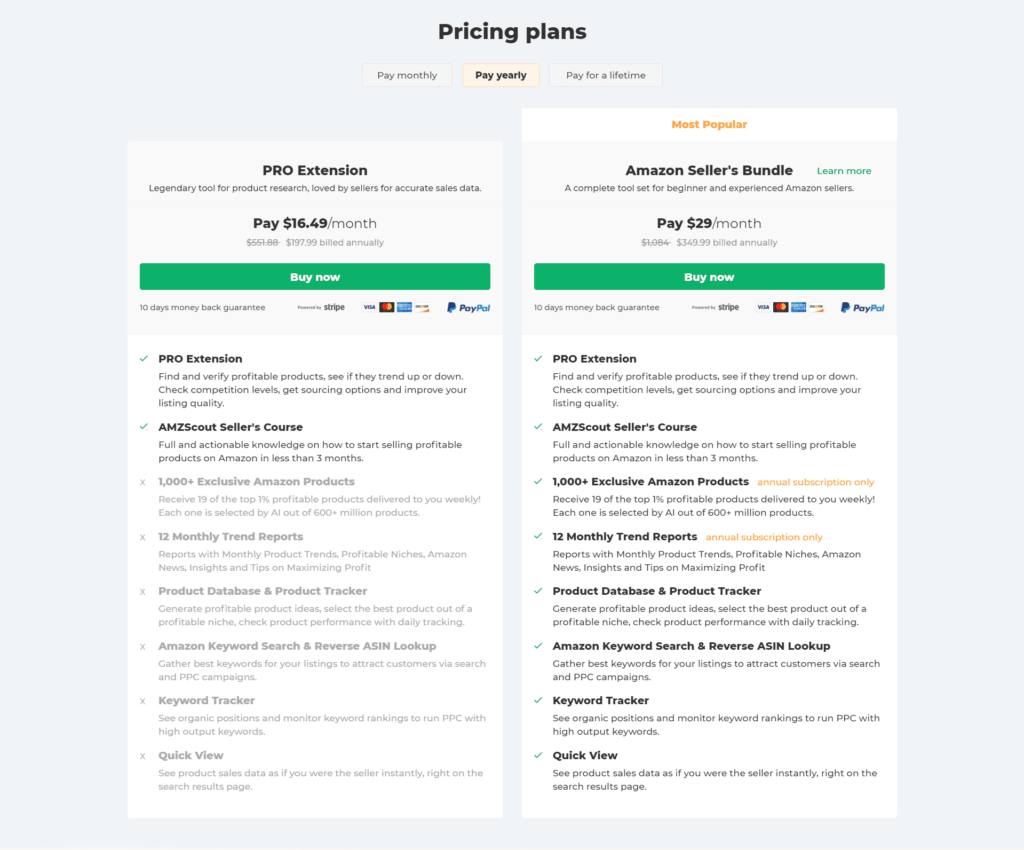 The pricing plans of AMZScout are quite reasonable and simple. You can pay monthly, yearly, and even for a lifetime. Moreover, you can choose to buy just the Pro-extensions with limited but effective features or you can buy the Amazon Seller's Bundle which is packed with all the tools and happens to be more popular among consumers than PRO Extension.
I suggest you buy the monthly Amazon Seller's Bundle that will only cost you $29. To check out the pricing plans in detail Click here.
Seller Reviews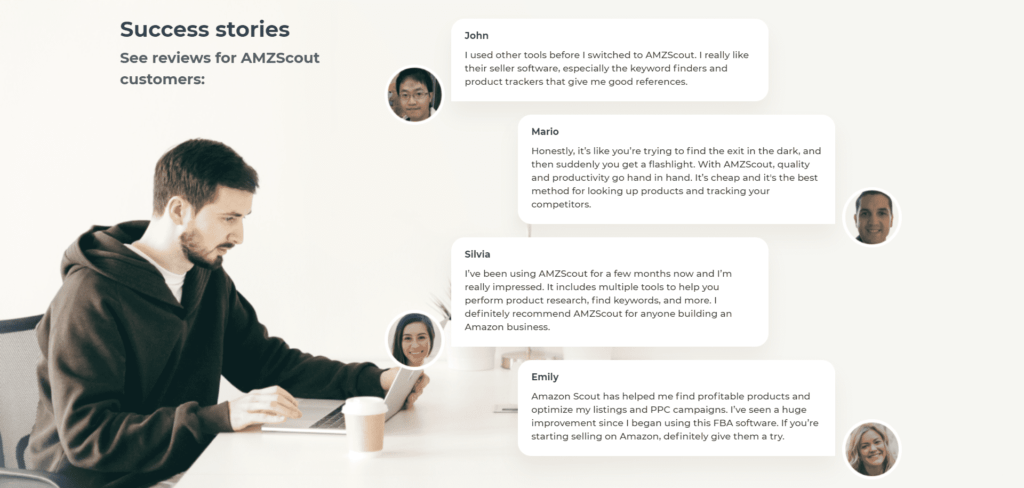 AMZScout has received an amazing review from its consumers. Sellers have benefited enormously from it and established their business with its help. According to my research, some big names have used this tool and found it to be up-to-the-mark. I suggest that you head to the website of AMZScout to read the reviews yourself and you can also Google it for further assurance.
Is It Worth it?
In my humble opinion, Yes, AMZScout is worth it. It offers a robust set of features that are geared towards improving sales and making sure sellers make a profit. Some of my friends have also used this tool and they are very satisfied with the results.
Do I recommend AMZScout?
AMZScout is a splendid Amazon tool that can help you hack Amazon's algorithm and increase your sales up to 400%. You should definitely give it a try. It can help you establish your name in the Amazon business and make considerable revenue.
Also, you can try it for free before you invest your money in it. Just click here and enter your email to use AMZScout for free. You don't even need to enter your credit card number to use the free trial which is very convenient. So go ahead and take advantage of the free trial before you spend your money. Good luck.