Adzooma Review
Ads Campaign Mgmt

Value for Money

Adzooma Marketplace
Summary
Adzooma, an AI-driven platform that intelligently manages all your advertising campaigns to automate online advertising. An award winner for the best PPC ads optimization platform that you must try for your business.
Pros
Manage all ad campaigns in one place
Yields better ROI
User-Friendly Interface with the best UX
Easily automate your tasks to save time
Custom Reporting system
Marketplace to list your agency in front of thousands of clients.
24/7/365 Support
Cons
Few optimization suggestions for Facebook Ad campaigns.
Creating a campaign inside the platform isn't possible. You have to do it from Google, Facebook, or Microsoft.
Don't have enough time to manage advertising campaigns for your business?
Looking for a reliable and trustworthy platform that can optimize your online advertising?
If yes, then you've come to the right place as today we're going to do an Adzooma review, a platform that helps you in managing and optimizing all your advertising campaigns, giving you a better ROI (Return On Investment).
No doubt, it is quite a difficult task to find a trustworthy and profitable platform for your business. However, today we've come up with the Adzooma review that fulfills all user's expectations. So today we'll review Adzooma and see if it's worthy to choose or not.
If you came here looking for the Adzooma review, then stay with me and keep reading the entire review to know about Adzooma in detail along with its pros and cons.
What is Adzooma?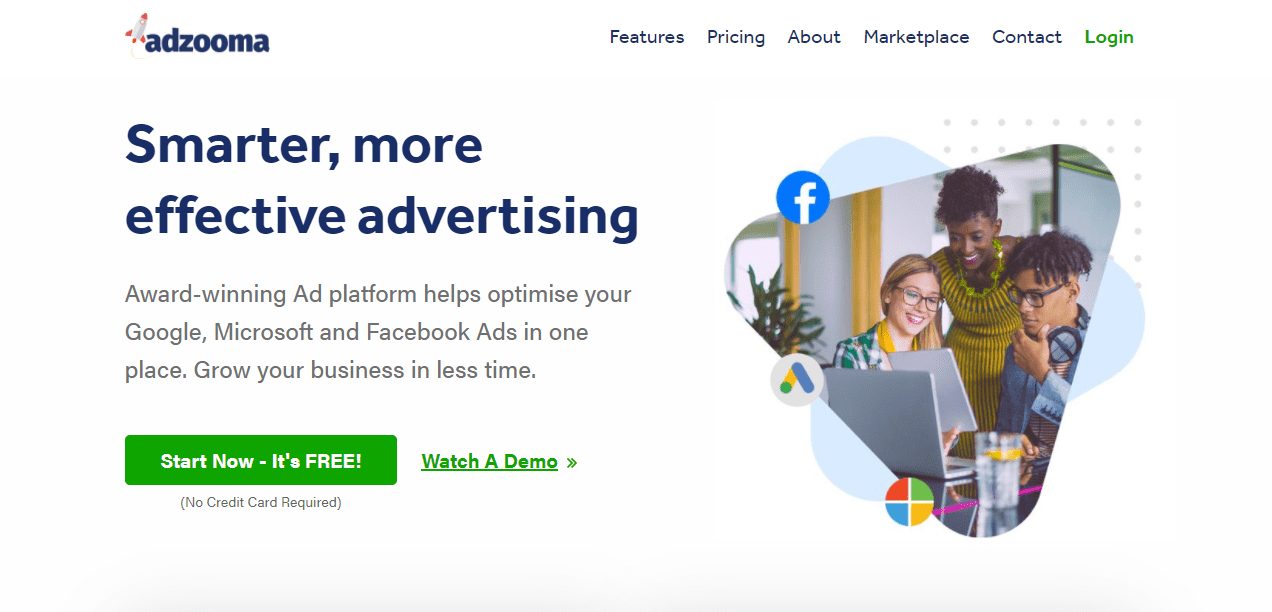 Adzooma, an AI-driven platform that intelligently manages all your advertising campaigns to automate online advertising. It was founded by CEOs, Rob Wass and David Sharpe in 2015 with an aim of solving problems for advertisers such as managing, optimizing, and automating the ad campaigns.
Adzooma is an award-winning ad platform that helps you grow your business providing a better ROI simply by optimizing all Google, Microsoft, and Facebook ads, all in one place.
Isn't it awesome? xD
It is the best ad optimization platform that dominates all of its competitors such as Wordstream, Optmyzr, etc. In the last few years, there has been a great spike in the number of users as it is the rapidly growing ad platform that made its great reputation in the online world.

Adzooma claims to have 101B+ impressions generated with 1.58B+ clicks that have optimized £386M+ in ads spent till now. It is everything you need as an advertiser or a digital marketer for managing your ad campaigns in the best possible way.
It analyzes all your Google, Facebook, and Microsoft campaigns by going through 240 metrics and allows you to make improvements in just a few clicks.
Following is the short overview of the Adzooma review that you might need to know.
Adzooma Details
Company Name: Adzooma
Founders: Rob Wass & David Sharpe
Founded In: 2015

Pricing

: It's totally a free platform for Managing Ad Campaigns
Minimum Payout: No minimum threshold required
Affiliate Program: Earn from $30 up to 10% monthly recurring commission for every new user who joins through your referral link
Payment Method: Stripe or PayPal
Call: +44 (0) 333 443 9857
Support Email:

[email protected]

Website: https://www.adzooma.com/
Why Choosing Adzooma Worth It?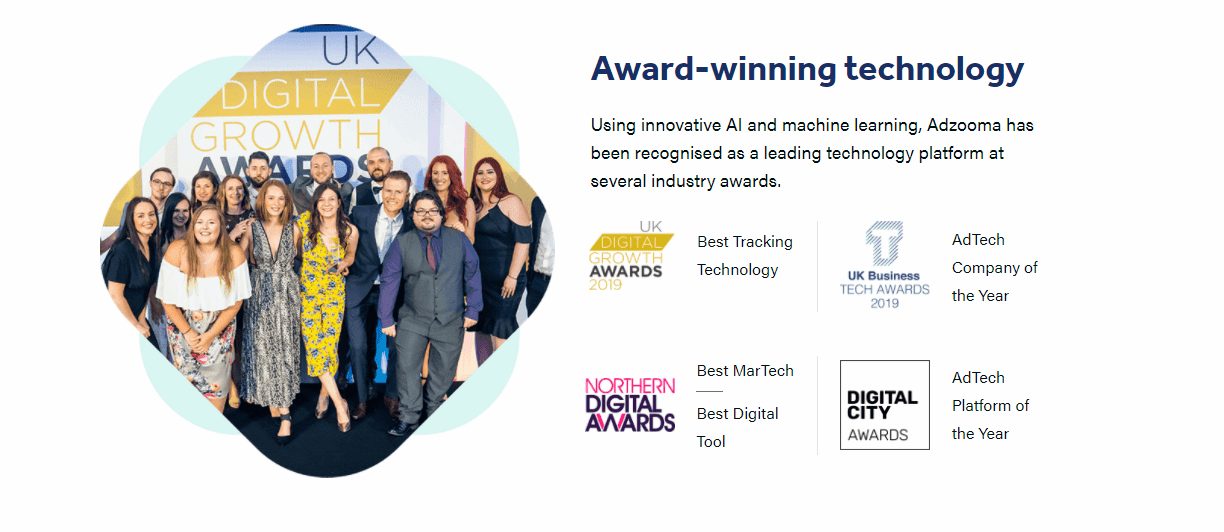 So, what makes it worthy to choose Adzooma for managing your online advertising? How does it differentiate itself from other PPC optimization platforms?
Well, Adzooma wins from every aspect when it comes to managing advertising campaigns. The reason it stands out is that they are award winners at several industry awards.
Moreover, they are partnered with the big tech giants like Google, Facebook, and Microsoft to help you save your time for optimizing your advertising campaigns all in one place.

Advertisers can blindly trust this platform to manage their businesses as it claims to have 101B+ impressions generated with 1.58B+ clicks that have optimized £386M+ in ads spent till now. The best place for marketers and agencies for managing campaigns, achieving more (ROI) in less time. With the AI-driven technology, Adzooma has surprised everyone who gave a try to this amazing platform.
It isn't over yet!
The biggest reason why Adzooma has rapidly grown in such a short time is that they offer its services free to its users. A completely free award-winning PPC optimization platform that costs nothing. Their main focus is to make online advertising effortless for all which is the reason why Adzooma has been growing day by day because of the quality they maintain for its advertisers.
Adzooma Features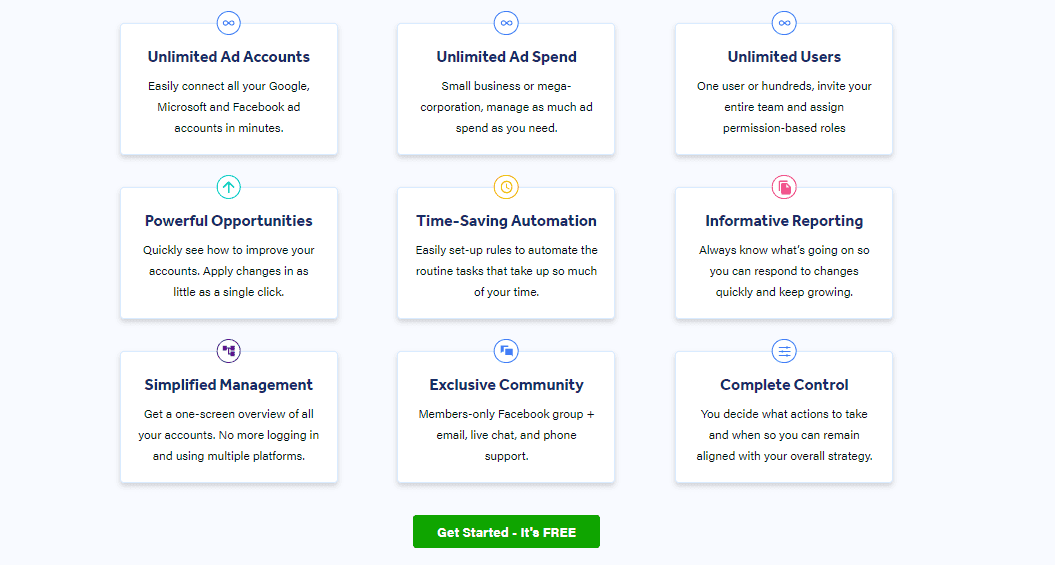 Apart from its competitors, Adzooma rewards its users with some of the best benefits and profit-boosting features that others lack in providing.
The following are some of the highly known benefits Adzooma provides to its users.
Manage Everything In One Place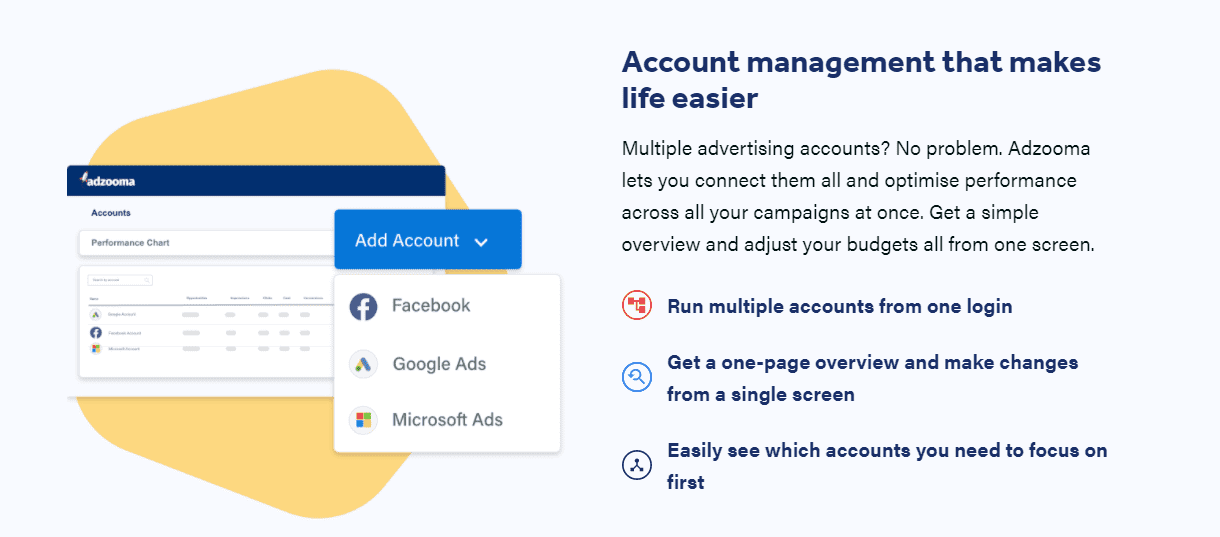 Yes, you heard it right! Adzooma offers you to manage all of your advertising campaigns all in one place in quite an easy way. It's probably the best platform you're looking for your business to manage your Google, Facebook, or Microsoft ad campaigns.
Having multiple accounts isn't a problem anymore as Adzooma lets you connect them all and optimize performance across all your campaigns in one place. You can easily run multiple accounts through a single login. A performance reporting system is available that keeps you updated with the stats of accounts either they are performing well or not.
AI & ML in Practice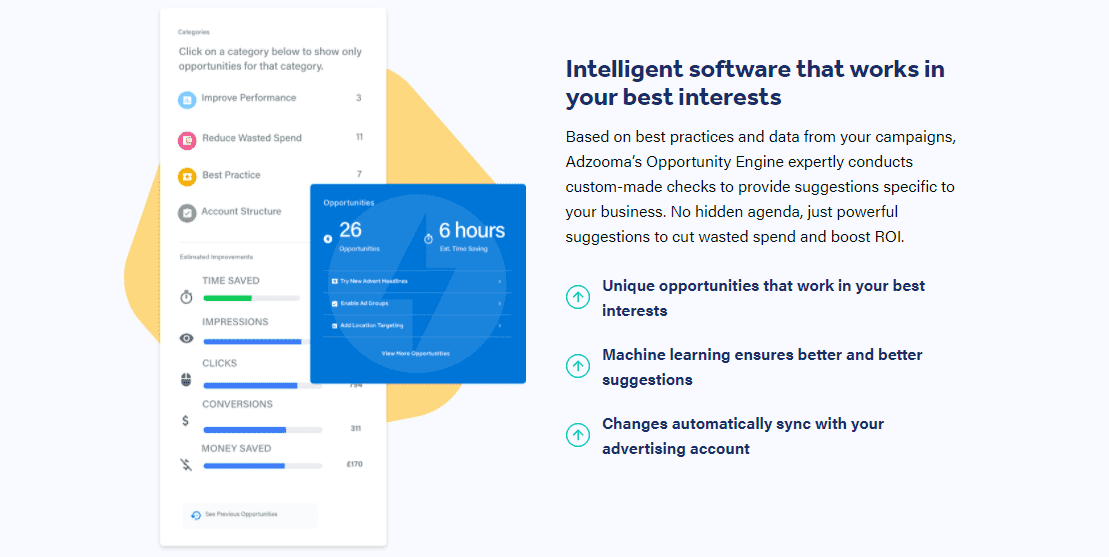 Adzooma uses both Artificial Intelligence and Machine learning to provide you with suitable options by analyzing data from your campaigns. Its opportunity engine cleverly supervises custom made checks to help you provide the best suggestions for your business.
The software helps you in reducing wasted spend by adopting the best practices. It saves a lot of time by automating tasks and improves performance by optimizing ad campaigns to the fullest.
Strong Advises that Yields Better ROI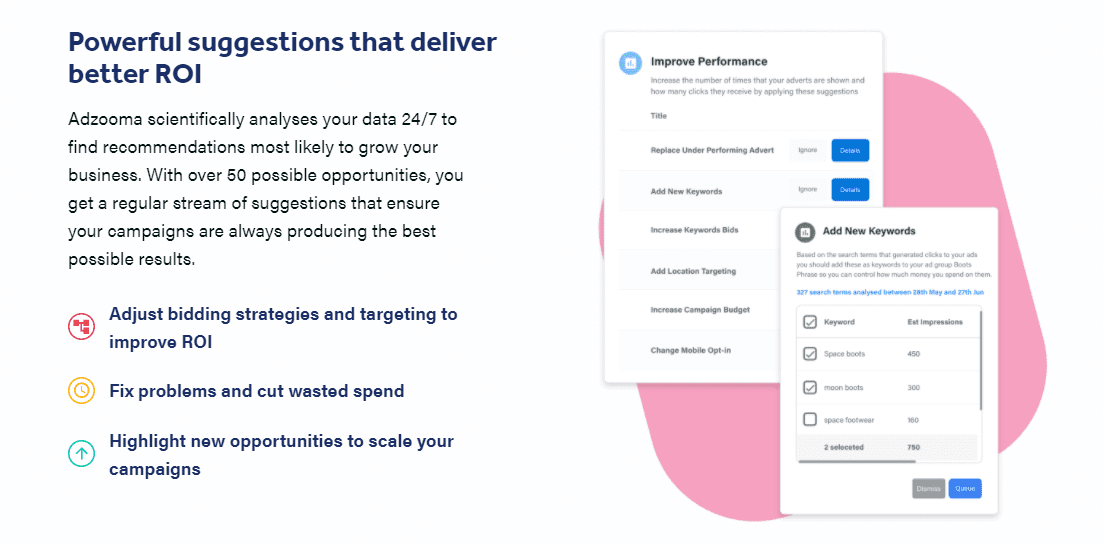 To become successful, one must have to use its mind wisely. But with Adzooma, you can blindly trust and follow the powerful suggestions provided by this platform powered by AI & ML.
Adzooma basically analyzes all of your data and provides you with the suggestions and tips that would surely help you in growing your business. Following these suggestions yields the best ROI (Return On Investment) and provides some new opportunities to scale your campaigns without investing much.
Clean UI & UX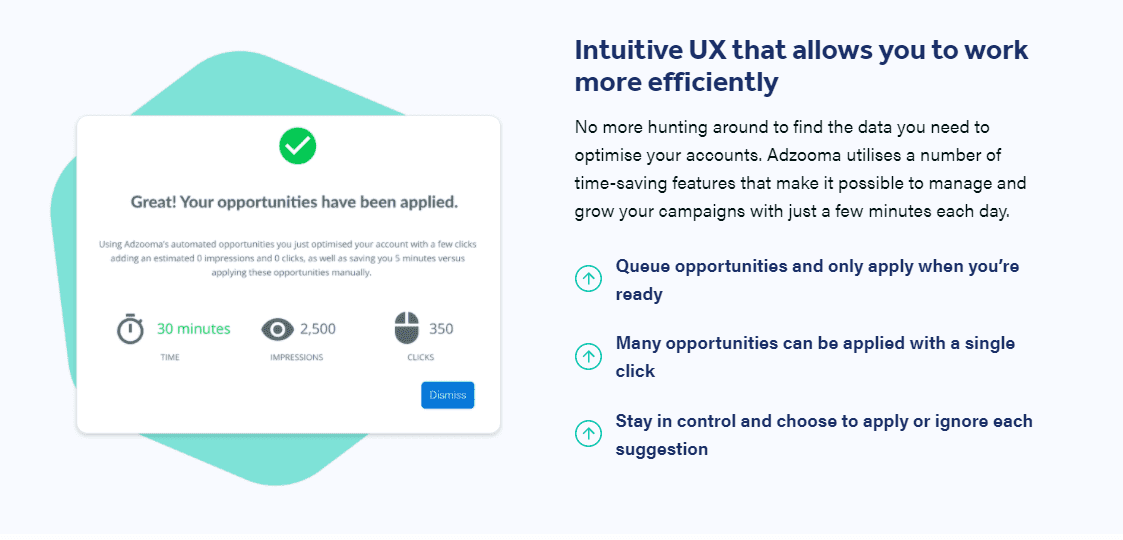 Not everyone can be able to adapt things quickly when moved to a new platform. However, Adzooma is quite a user-friendly platform that anyone who uses it for the first time gets in love with its User Interface.
The thing which lets users stay on this platform is the User Experience which is probably one of the best I have ever seen. In a few tweaks, you can manage your campaigns in an easy and friendly way helping you save your time. Adzooma displays a list of opportunities to apply for your business which you can do by just a single click. If you're aren't ready to apply those opportunities, you can put them in a queue for later use.
Automate Tedious Tasks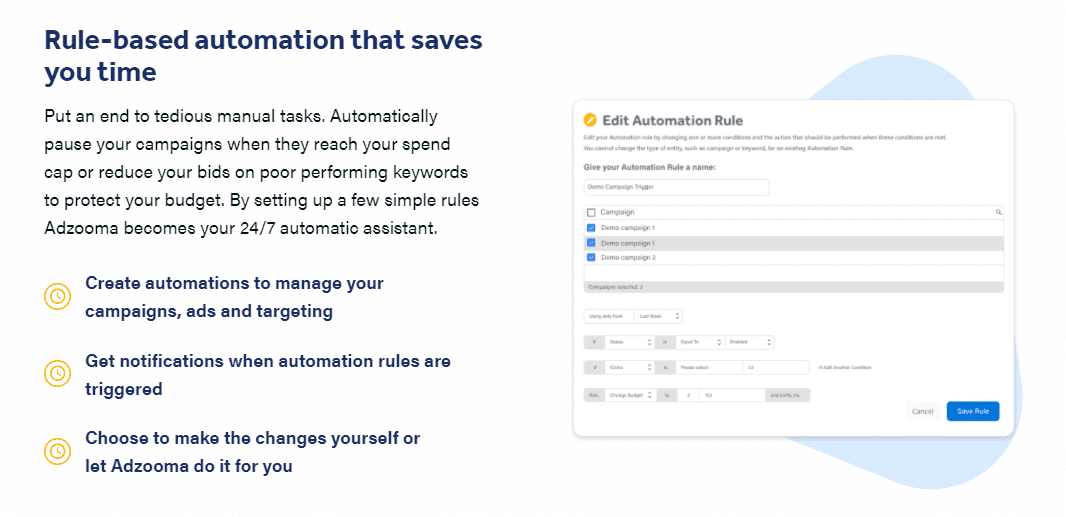 It's quite frustrating to do the same uninteresting tasks frequently for your ad campaigns such as pausing the campaigns, reducing budget on low performing keywords, etc. However, with Adzooma, you can automate these boring tasks just by creating automation rules.
By setting up a few simple rules, Adzooma would be your 24/7 automatic assistant. You can create as many rules as you want in order to automate everything.
How to Set Automation Rules?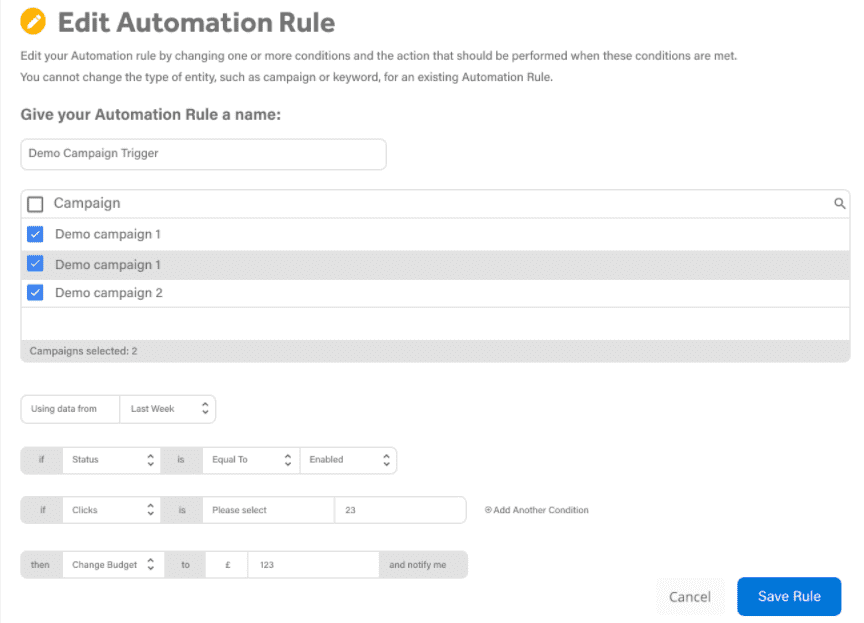 To set automation rules for your account, you can do it by following these easy steps:
Create a new automation rule and name it.
Select the campaign, ad group, ad, or keyword that you want to automate.
Now set data parameters and rule terms.
Choose to get notified when a change has been made or it needs to be changed.
That's how simple it was. Isn't it?
Custom Reporting System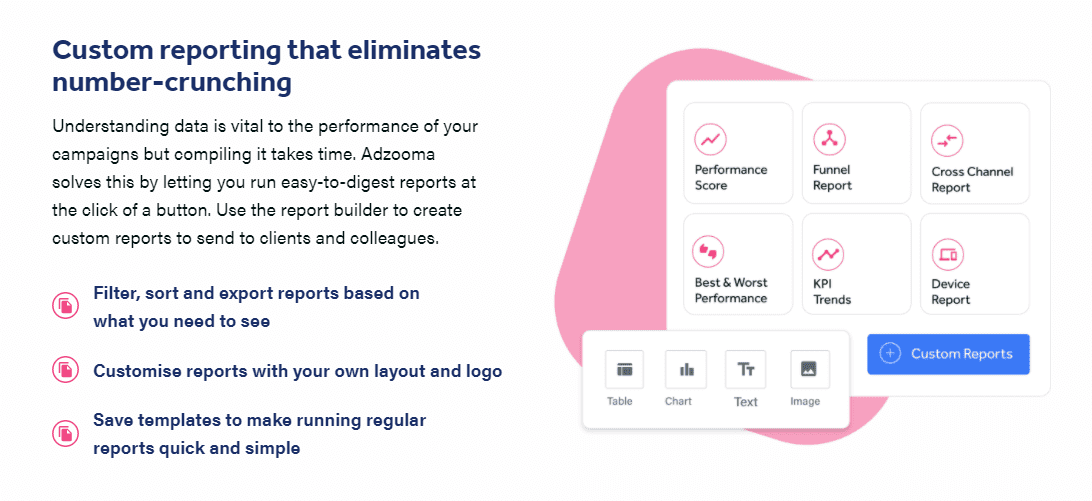 Now that's a quite unique and wonderful feature of Adzooma that makes it reach the next level. Almost every platform has a performance reporting system but with Adzooma, you get a report builder that creates custom white-label reports in order to send clients and colleagues. Adzooma's reporting feature covers everything to take you out of the depths of PPC (Pay Per Click) reporting.
You get access to six predefined reports that can be generated by just a single click. Moreover, the custom reporting system allows you to create fully customizable reports in which you can add your own layout and logo. Once you've customized the report, save it as a template to save time for the next use.
Adzooma Marketplace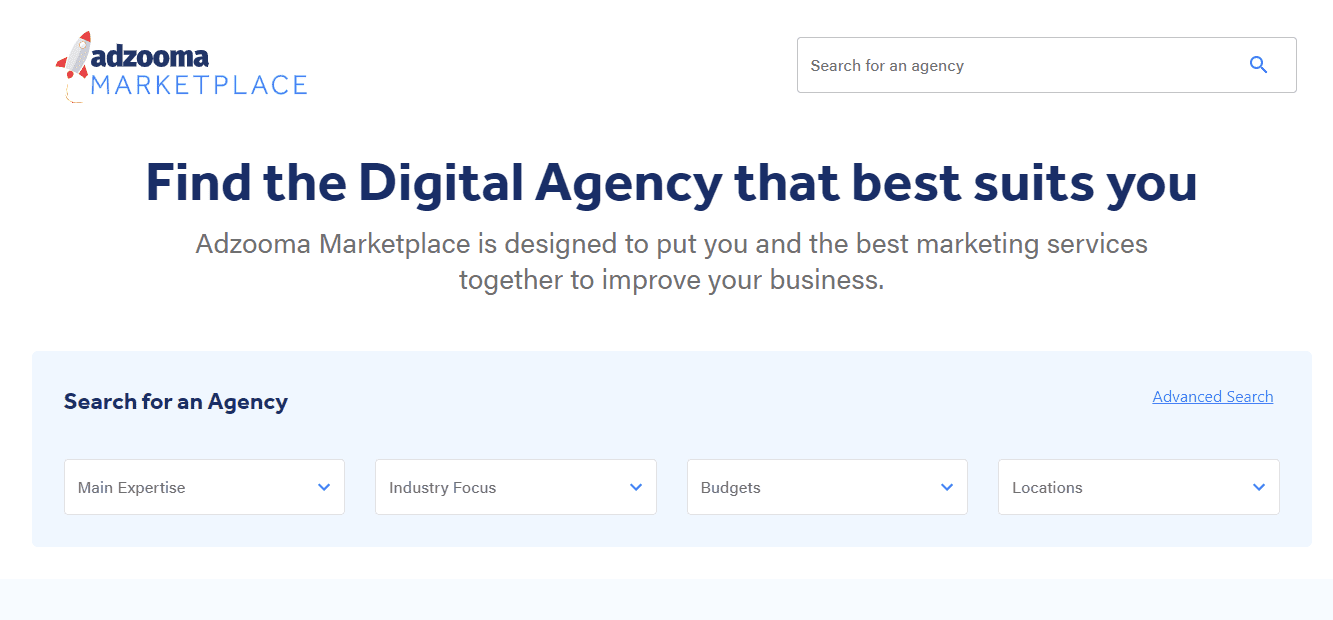 Adzooma has literally countless features that I may not be able to cover them all in this Adzooma review but this feature of Adzooma won the hearts of many marketers and agencies.
The Adzooma marketplace is all you need. If you're an agency who is looking for some potential clients, then you must list your agency at the Adzooma marketplace as they'll feature your brand in front of thousands of potential clients who are looking for digital marketing services. Get your listing in front of traffic from industry-leading websites, high-performing PPC campaigns.
The types of services currently offered are as follows:
A/B Testing
Amazon Marketing
Content Marketing
CRO
Digital PR
E-Commerce
Email Marketing
Marketing Strategy
PPC
Promotion Design
SEO
Social Media
UI/UX
Video Production
Web Analytics
Website Design
Website Development
Website Hosting
To get started on Adzooma's Marketplace, the process is quite simple which can be done in just 3 steps. You simply have to choose your package, create your listing alongside a member of the Adzooma team and your listing is ready to go.
To get more advantage from Adzooma, you can request to be an author on the Adzooma blog and exhibit your expertise to their readers, email subscribers, and social media followers too
It seems to be an excellent place for both agencies and businesses to find their match.
Pricing Details for Marketplace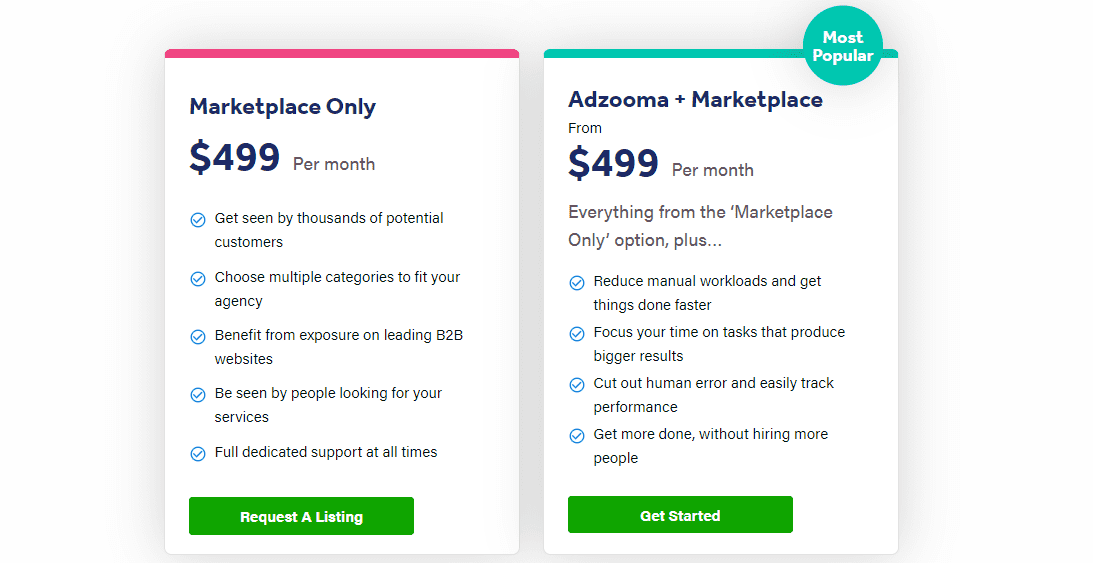 Adzooma is completely free for advertisers for managing, optimizing, and automating their ad campaigns. However, they have pricing plans for its marketplace where one can list their agencies to get potential clients for their business.
They have currently two plans for it and interestingly, both of them are of the same price.
Marketplace Only (

$499/MO

)
Adzooma + Marketplace (

$499/MO

)
As you can see, Adzooma offers the same price in its second plan (which they call it the most popular plan) with an additional benefit of using Adzooma along with the Marketplace.
The features for both of them can be seen in the following figure.
So, if you're an agency and are looking for some potential clients, you should list your agency at Adzooma's Marketplace to get high-quality traffic and leads.
How does Adzooma's Marketplace work?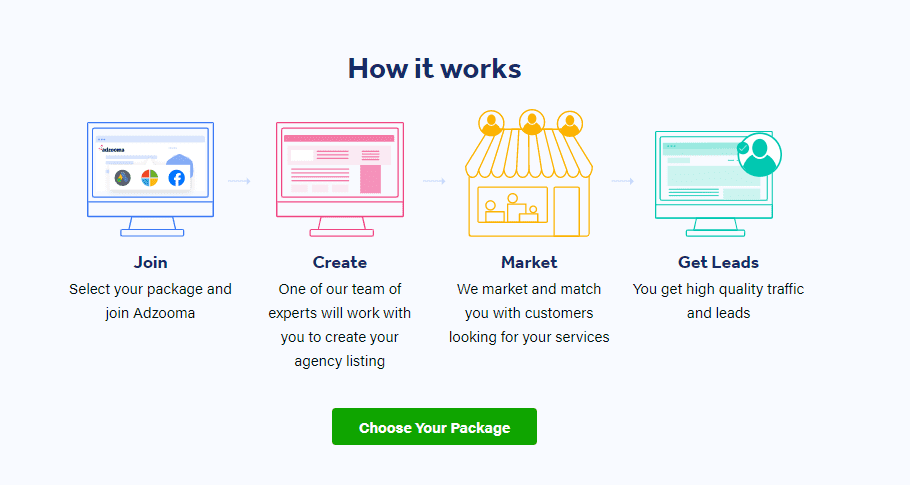 As we've already discussed that you've to join Adzooma Marketplace first by choosing an appropriate package.
After that create a listing for your agency with the help of an Adzooma expert from its team.
Once created, start listing it and Adzooma will do the rest. Within a few times, you'll start noticing high-quality traffic and leads.
Do I Recommend Adzooma?
In light of all the facts discussed in this Adzooma review, I'll definitely recommend Adzooma to everyone who has been struggling in searching for a trustworthy, reliable, and the best-performing PPC optimization platform for managing your ad campaigns (Google, Facebook, and Microsoft) all in one place.
The reason it stands out is that it saves a lot of your time as it manages, optimizes, and automates everything within just a few clicks. If you're tired of managing your online advertising, then Adzooma would be a lifesaver for you.
So, if you've been looking to manage your online advertising campaigns for your business, then Adzooma will be the best ever choice you'll make as it has been functioning since 2015.
Do you still have any doubts about choosing Adzooma? Go check out Adzooma reviews from other people who have already experienced this platform.
At Trendstorys.com, we aim to provide honest reviews to our users to help them choose the right platform.
Any queries related to the Adzooma review or if you're already experienced with this platform, give your review out of 5 stars or let me know in the comments.