3dcart Review
Summary
3dcart is an online eCommerce web-based application that allows you to build an online store for your business within no time. It has one of the best features that no other platform offers at this price.
Features

Support

Value for Money
Pros
User-Friendly Interface
100+ payment processors
Secure hosting
Built-in SEO and marketing tools
Unlimited bandwidth, products, storage, etc.
Free domain for 1st year
24/7/365 support
Cons
Staff users are limited per plan
Limited templates with almost the same layout.
Limited customization without coding
Have you been looking to build an online store where you can sell your products?
Want your products to be sold all over the world in the most convenient way?
If yes, then you've come to the right place as today we're going to do 3dcart review which is an eCommerce platform that allows you to build an online store in a quite easy way.
So, if you're a business owner and want to sell your products online too, then you must need to have an eCommerce store in order to sell online. There are many other platforms available to create an online store such as Shopify, Ecwid, BigCommerce, etc. in which 3dcart is a way far better choice for you to start an online store.
Therefore, we'll do an in-depth 3dcart review and will see why it is superior amongst others.
What is 3dcart?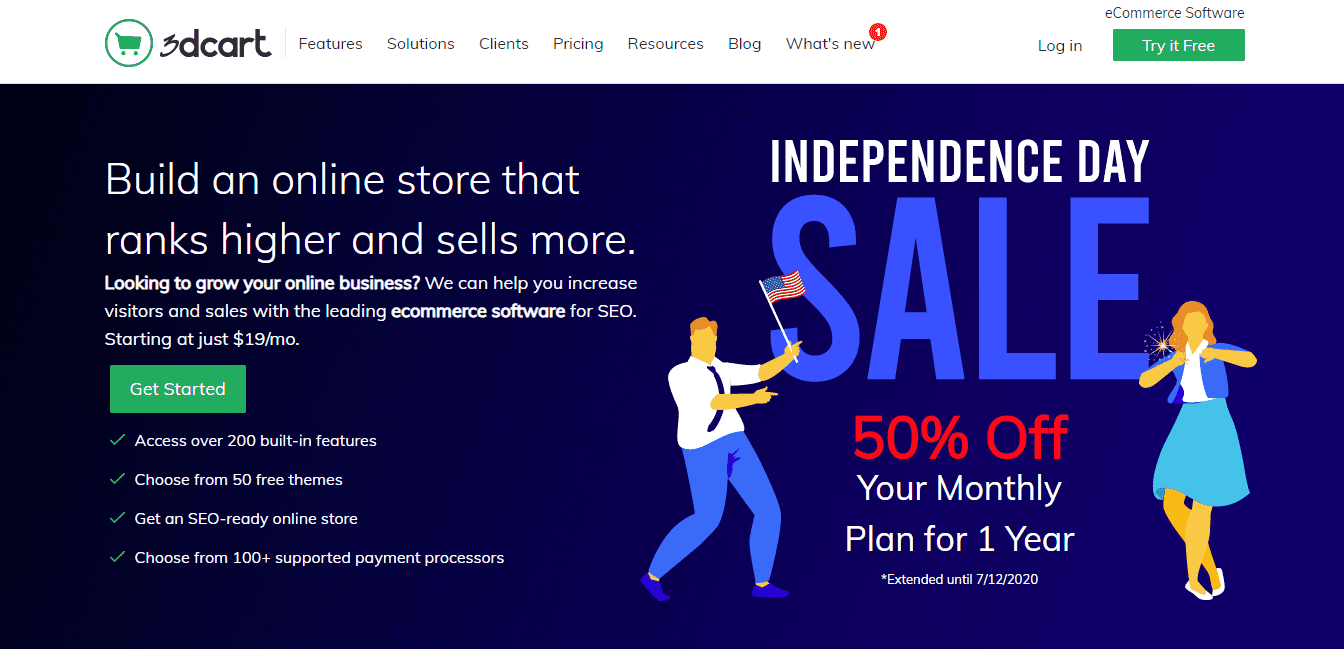 3dcart, an online eCommerce web-based application that allows you to build an online store for your business. It is an all in one software which has everything you need to build an online store such as dozens of professionally designed themes, the fast and secure server having 99.94% up time, and the best marketing tools required to skyrocket an online store.
It was founded by Gonzalo Gil in 1997 with the aim of helping businesses turn digital to sell goods online. It is an old, yet most reliable and the best eCommerce software that has various advantages over many other eCommerce platforms which we'll discuss later in the 3dcart review.
Following is the short overview of the 3dcard review that you might need to know.
3dcart Details
Company Name

: 3dcart

Founder & CEO

: Gonzalo Gil

Founded In

: 1997

Payment Gateways

: Stripe, PayPal, Square, VISA/MasterCard, etc.

Affiliate Program

: 300% one-time commission per sale via ShareASale

Partner Program

: 25% recurring commission for eligible users only

Free Trial

: 15 days 

Contact #

: 1-800-828-6650

Support Email

:

[email protected]

Website

: https://www.3dcart.com/
Why choosing 3dcart worth it?
There are many other eCommerce platforms that allow you to build an online store such as Shopify, Ecwid, BigCommerce, etc., but 3dcart is probably one of the best among them as it is the only platform that offers access over 200 built-in features, dozens of premium themes, SEO optimized store, and most importantly 100+ payment processors which is a great thing to consider. It is the best platform for growth hackers who want to turn their businesses digitally without investing much.
Apart from others, it is quite an affordable and scalable platform that is packed with tons of features to help you start your business. With its built-in SEO optimization and marketing tools, it stands out from all other platforms that lack in providing.
3dcart Features

As we've mentioned above, 3dcart offers many premium features for free in all of its plans while other platforms charge for it.
Some of the highly known features of 3dcart are as follows:
Start the eCommerce store in minutes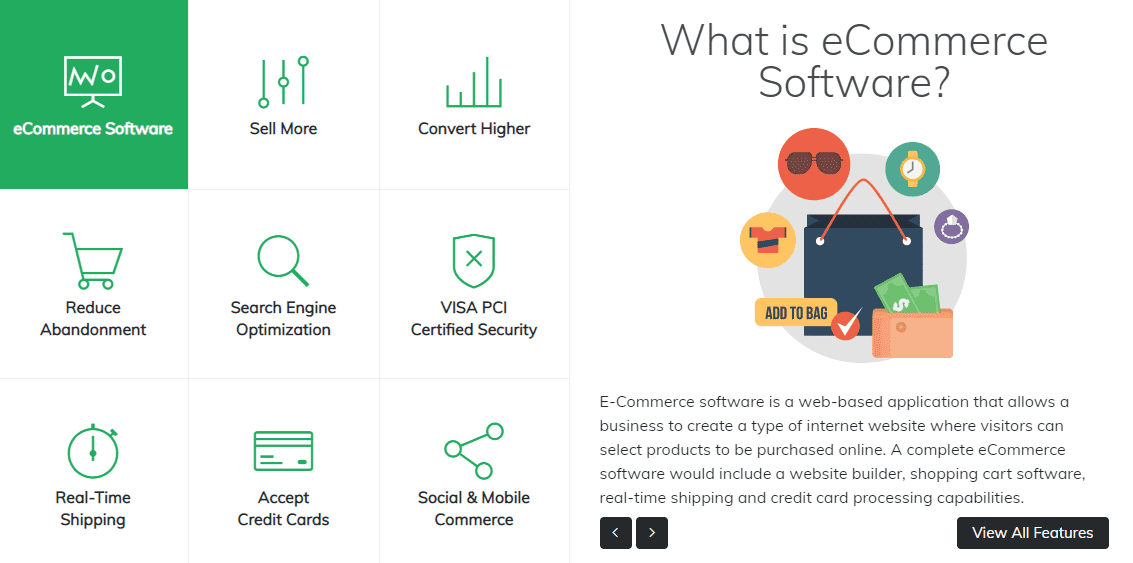 Yes, you heard it right! With 3dcard, you can build an online store in minutes in just a few tweaks using the web-based application. With 3dcart, you can design your eCommerce store with its own website builder. Moreover, it has built-in functionalities such as shopping cart software, real-time shipping, and credit card processing capabilities that is almost everything you need for an online store.
Marketing Tools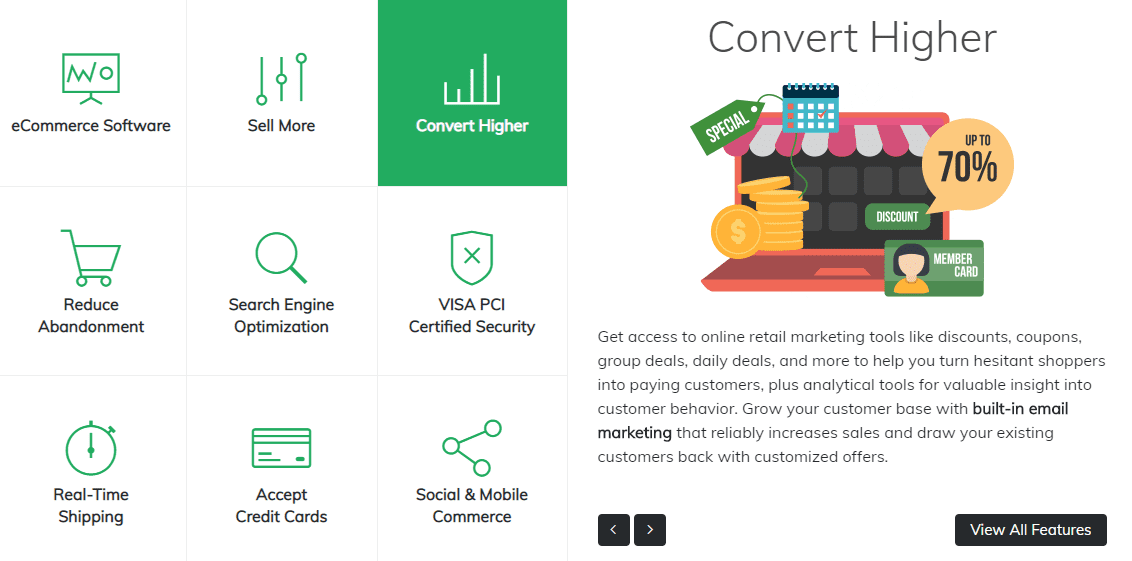 3dcart offers you the best marketing tools like discounts, coupons, group deals, daily deals, and more to help you turn shoppers that are having deciding issues into paying customers. The good thing about 3dcart is that you don't need to pay for these marketing tools as they are already included in any of the plans of 3dcart. Moreover, analytical tools are available to have in-depth insights into your customers. You can also increase your sales with the built-in email marketing feature of 3dcart that allows you to send promotional emails in bulk with exciting offers.
SEO Optimized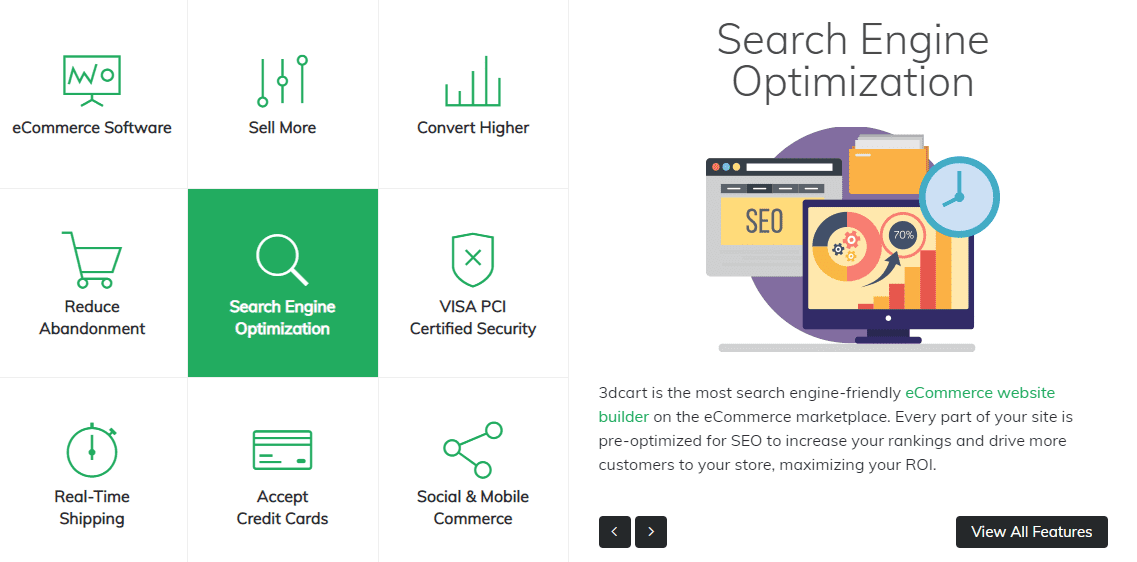 When it comes to search engine optimization, 3dcart is a platform that has the best SEO friendly website builder to build SEO optimized stores. Almost everything is pre-optimized which means you don't need to worry about search engine optimization as 3dcart will do the game for you. Since it is already optimized, chances are that you're going to have massive traffic and sales resulting in maximizing your revenue.
Payment gateways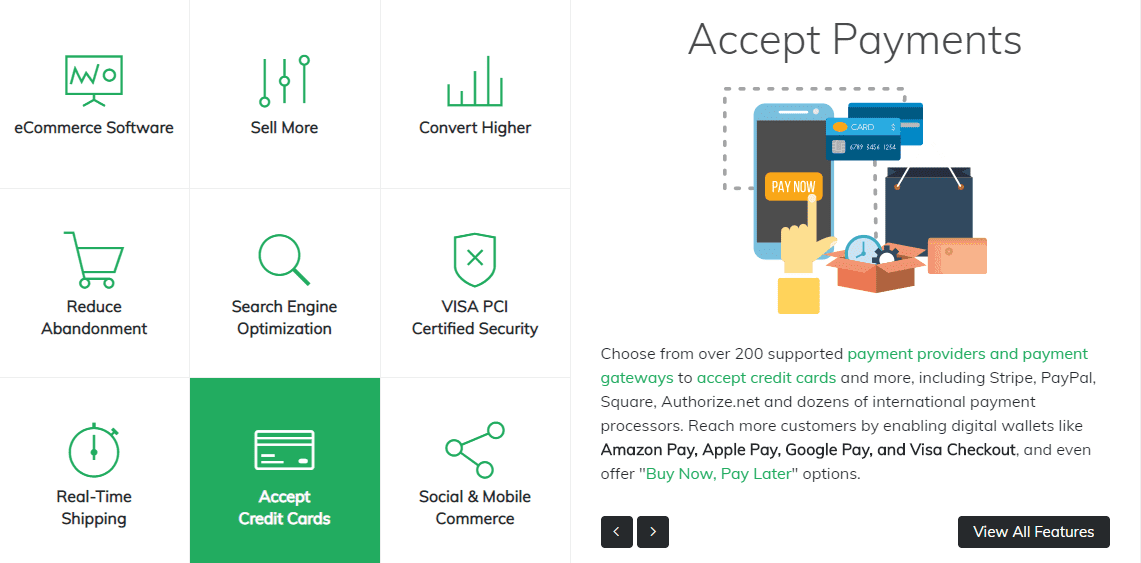 This is one of the most important features of 3dcart because many people who are running eCommerce stores get in trouble at some point regarding payment gateway. 3dcart is the only one that offers over 100+ payment gateways to accept credit cards with any issues. Moreover, it allows you to integrate Stripe, PayPal, Square, Authorize.net, and many other payment processors as well. You can even allow the audience to use digital wallets like Amazon Pay, Apple Pay, Google Pay, and Visa Checkout, etc. which is a great thing to consider.
Safe & Secure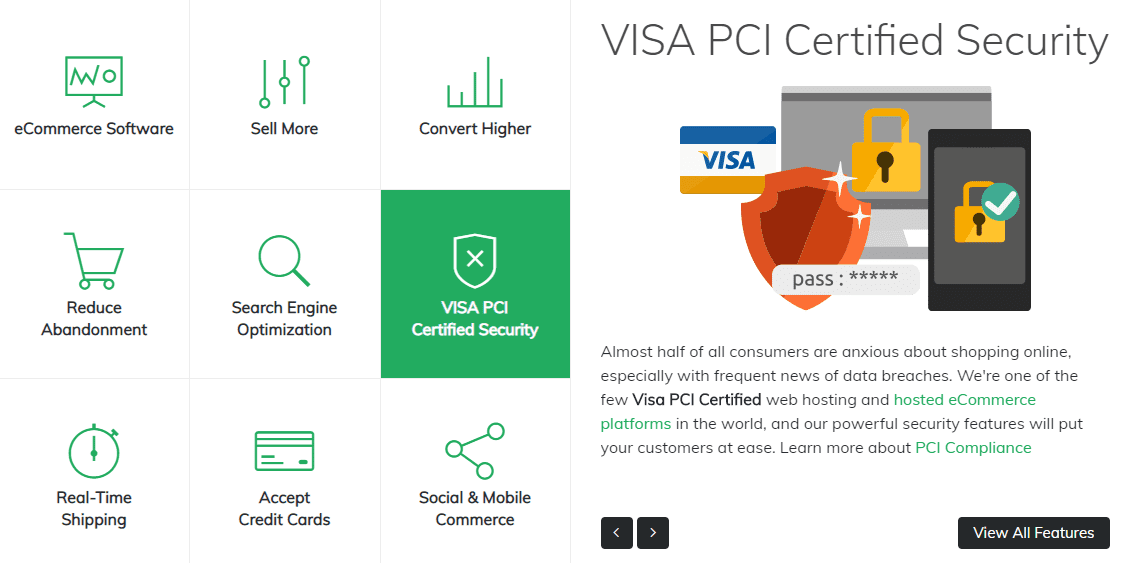 Everyone's first preference is to make the website safe and secure from all vulnerabilities. Because every single day, we use to see news from many companies having data breaches. Therefore, it is a must need for everyone to make their businesses safe and secure and that's what 3dcard does. It is one of the few Visa PCI Certified web hosting and hosted eCommerce platforms in the world that promises you full security with HTTPS, PCI Certification, two-factor authentication, and anti-fraud tools to protect you from everything so that you don't need to worry about anything.
3dcart Pricing Plans

3dcart offers a bunch of pricing plans according to user needs. Apart from other platforms, it is quite affordable for every user who wants to build an online store. The beauty of 3dcart is that it offers all premium features for all the plans which means a person having just a starting plan which costs less amongst all the plans, can still be able to access all those features such as no transaction fees, domain registration, shopping cart, unlimited orders, 24×7 tech support, 50+ ready-made themes, unlimited bandwidth, safe and secure server, 100+ payment providers, etc.

Following are the plans that 3dcart offers to its users:
Startup Store (

$19/mo

)
Basic Store (

$29/mo

)
Plus Store (

$79/mo

)
Power Store (

$129/mo

)
Pro Store (

$229/mo

)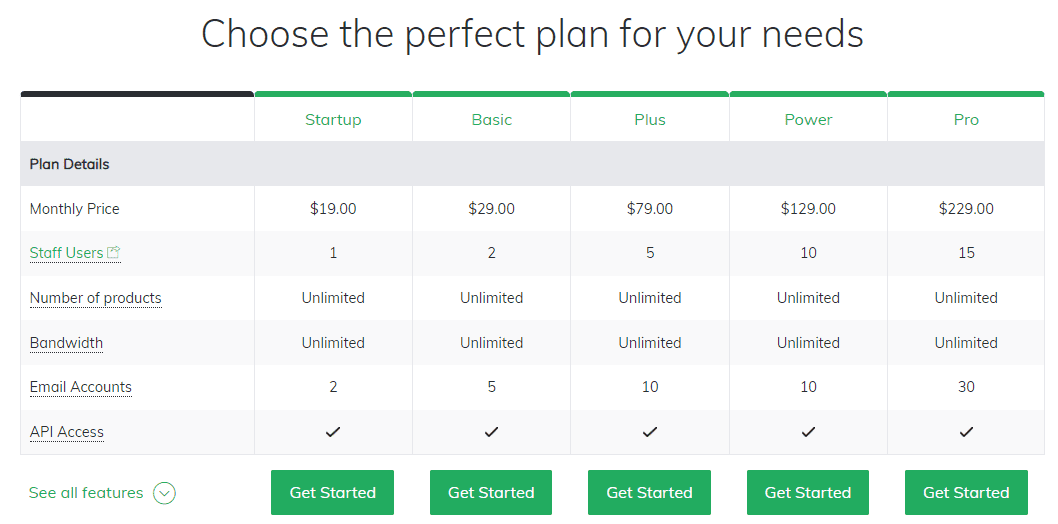 Check out the detailed comparison between all plans by clicking here.
3dcart Affiliate Program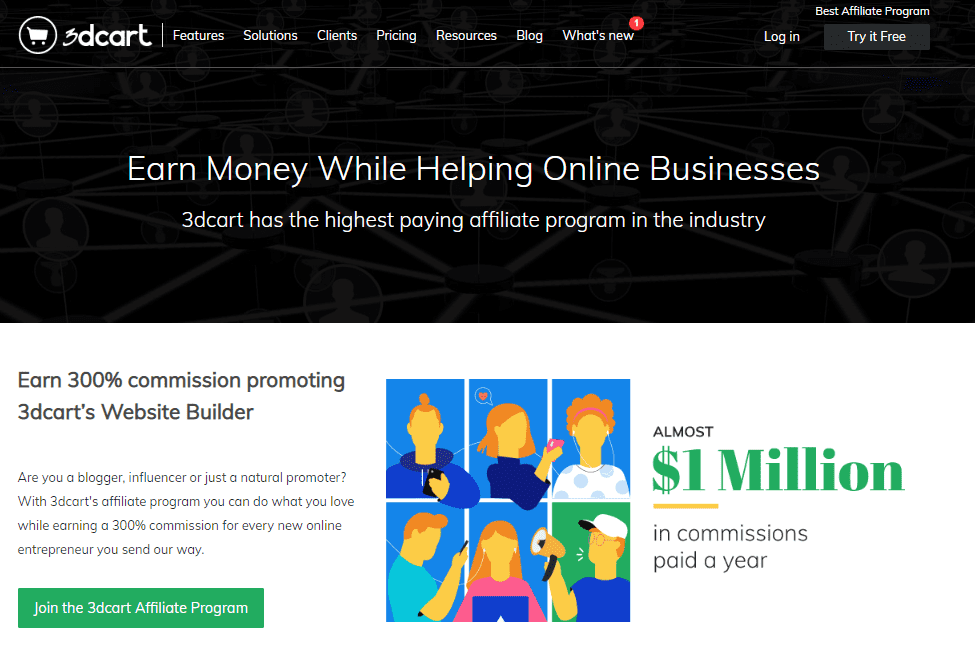 3dcart provides you an opportunity to earn even more from their affiliate program that lets you earn 300% commission by promoting 3dcart's website builder. In simple words, you can earn 300% commission for every new user who joins 3dcart. You can earn almost $1 million in commissions paid yearly which is simply awesome.
You just need to refer the people to join 3dcart. Whenever someone will signup online for 3dcart services, you get paid up to 300% one-time commission per sale via Share-A-Sale, an affiliate marketing network.
Affiliate Program Benefits
300% commissions
120-days cookie expiry
Higher payouts
Bonuses & incentives
Unlimited earning potential
And many more.
They do have a partner program available too that offers recurring 25% commissions which means you get paid lifetime. However, to get eligible for their partner program, your company should work directly with the clients you're referring and then you're good to go😉
To stay legit in the eyes on 3dcart, you should refer the affiliate links only to your friends, customers, social media, email list, sharing links on YouTube videos, or by writing a blog post, etc. You can even use the highest paying URL shorteners to earn more money simply by shortening the affiliate links.
So, if you have planning to join 3dcart, you must join their affiliate program too. There are several other recurring affiliate programs that you might need to know.
3dcart Support Center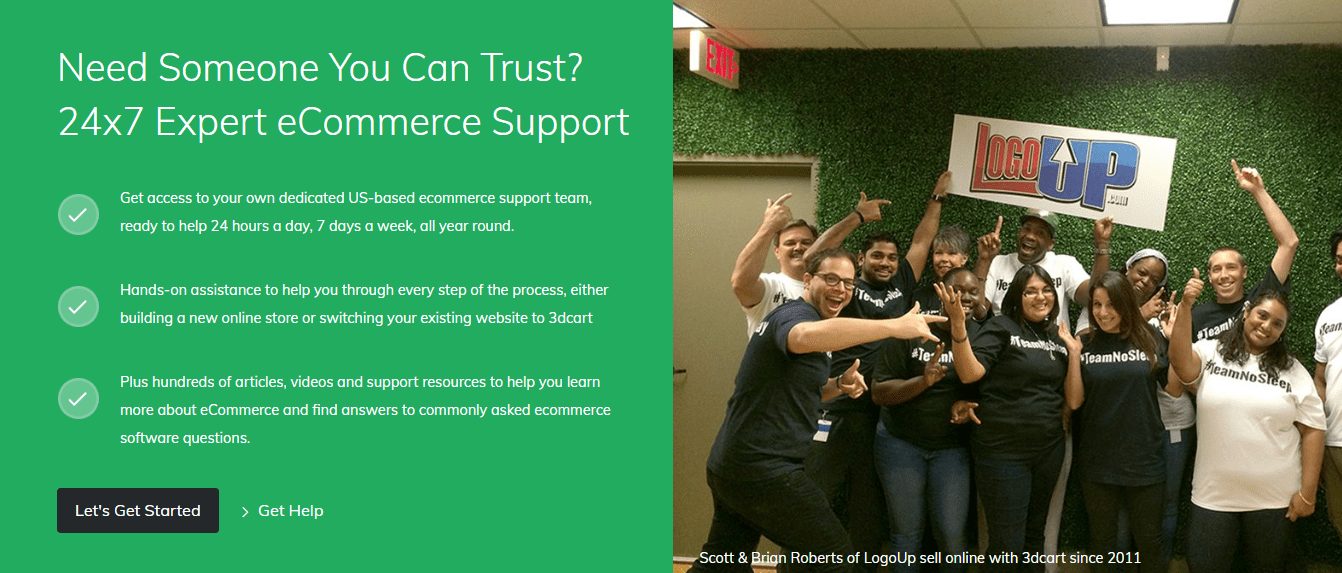 Ever got stuck in something? Don't have enough time to fix it on your own? Want someone to help you fix out the problem?
Well, of course, everyone wants to get their problem fixed asap. Therefore, 3dcart offers you 24/7/365 tech support to everyone who is having any issues regarding their eCommerce store. Their support team is always available 24/7 for you to fulfill all your queries.
If you don't even want to wait for some hours to get a response from the support team, you can use their live chat service to create an online ticket in order to help you as soon as possible. 😊
Do I recommend 3dcart?
Well, in light of all the facts, it is concluded that 3dcart is the best eCommerce software (A web-based application) for those people who want to build an online store for their businesses to expand it all over the world. It has all the premium features which are offered for free with any of its plans. The reason it stands out from other platforms is because of the security it provides to its users. 3dcart claims to be Visa PCI Certified which means your data is safe and secure from all vulnerabilities. Unlike other eCommerce platforms, 3dcart includes 1 year of free domain registration in every plan, saving you even more time and money. Therefore, I'll definitely recommend this platform to everyone who is thinking to create an online store in order to grow and expand the businesses.
So, if you've been looking to build an online eCommerce store for your business, then 3dcart will be the best ever choice you'll make as it has been functioning since 1997.
Do you still have any doubts about choosing 3dcart? Go check out 3dcart reviews from other people who have already experienced this platform.
At Trendstorys.com, we aim to provide honest reviews to our users to help them choose the platform.
Any queries related to 3dcart review or if you're already experienced with this platform, give your review out of 5 stars or let me know in comments.